INDEX OF KARMA TALES
NEW:
Tales from the 2015 Iron Butt Rally
Oil Change Miracle | Mexico
In the place that "god forbid"

Deer Avoid Raiders

Wallet Lost But
Dying Man Finds It

BMW Final Drive Breaks
But Replacement Instantly Found

Harley's Crash But Miss
Raider

Raiders Impossible Merge In Knoxville
10 Nails / Flat
Tire Store Miracle

Out of Gas Then
Friends From 600 miles Away Appear

Raider Karma Confirmed Magazine Article PDF
Got A Smurf Card?
When Raider Karma Happens You Must
Tell Us Your Tale!!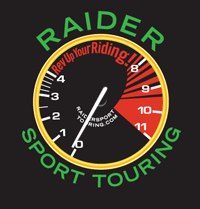 NEW!! Three Tales From the 2015 Iron Butt Rally [Click and go]
Tell Us Your Tale!! Click To Send Email with your story!!
Rick Nelson / Mexican Oil Loss-Change Miracle in the place that "god forbid"

I'm heading north out of Veracruz, Mexico after an official BMW Moto service on my R1200 GSA. 2 hours down the road, in the center of nowhere, or as they say locally, en un lugar dejado de la mano de Dios - in a place forsaken by God, I pulled out to pass a semi-truck on the two lane and the rear wheel started a slippy slide for no known reason. Got it straightened out, finished passing the truck and a kilometer further along the bike lights up with master caution lights and "Oil-Oil-Oil" flashing with emphasis. Grabbed the clutch, key off and rolled off onto a handy little side road. Once off the bike, I see oil pouring out the bottom. Pondering the cause, I kneel down and see - first bit of karma - the oil drain plug sitting on the skid plate. Obviously the idea of torqueing that little buddy into the hole hadn't occurred to the tech back in the city. Maybe he just got distracted, I know I've done similar things. Thinking "at least I can put the plug back in tight," I get out my tools, of which were included 8, 10, 12, 14 and 17mm sockets. Of course this particular action requires a 13mm with no other way to get at the nut. Then arriving on the scene - second bit of karma - is a taxi cab. Remember now - dejado de la mano de Dios. The driver asks "Que pasa"? In my limited Spanish I somehow explain my need for a 13mm socket. He says "momento" and drives away, back inside of 5 minutes with a 13mm socket and a 3/8" driver. Nice, and third bit of karma. Off comes the skid plate, in goes the plug, back on with the plate and then I pour in the one quart of Castrol GTX 20W50 that I carry with me. Now I'm standing there looking at the empty quart and pondering. The bike takes 4 quarts to fill up, and I've got one quart in there. Do I start the engine ? Taxi driver: "Problema?" I reply, "Si, quiero mas aceita, tres litres". Yea, I know, it should have been "nesecito" but I was a bit stressed. In any case, driver nods, says "momento" again, drives off only to return - again inside of 5 minutes - and still - dejado de la mano de Dios - with 3 quarts of Castrol GTX 20W50. I've lost track of the total karma points. Drivers name? Gabriel. Or maybe Angelo. Gotta be one or the other. And, thanks for the smurf card.

Rick Nelson

Jesse Perkins / Out West Run 2013
UNBELIEVABLE DEER AVOIDANCE STORY

It was during a ride out west, my "Cherry Ride", with the infamous group, the "Raiders" that I had the, "Encounter of Raider Karma of the Third Kind." …. Here is my story because, I too was skeptical:

[Three of us had gotten behind the other Raiders on the short ride from White Salmon to the Rally]. We were constructively weaving through the 4 lanes of interstate traffic between 60 - 70mph when the encounter occurred.

I had moved to the far left lane securing a clear path in anticipation Peter would eventually merge over.. Clyde was in a left offset and staggered so we were in a loose left echelon. Suddenly, I observed a large doe running down the mountain to my left. The doe jumped the barrier gracefully and proceeded to pounce totally airborne for 30ft. The fight path was a direct intercept for Peter. Without any changes in the flight path Peter was going to be taken out like a 250lb linebacker with a direct shot at the quarterback. All I could say is, "that this isn't going to be good."

In mid -flight the deer saw the same consequences as I did, and started evasive actions. She lowered her rear legs as if to go vertical but lost footing. As if this was not enough, she twisted her torso like a gymnast to change the path. I could clearly see the effort on the doe's muzzle because her tongue was out like MJ making a tough shot. The deer changed her vector with its legs flailing in the brisk air. If Peter had turned his helmet he would have French kissed the doe on American soil. (When asked about this later, Peter commented he saw something brown and an eyeball, but dismissed it due to earlier events of blood and guts in his past.)

It was not over yet! The doe slid past the rear of Peter's bike narrowly missing it. Now!….. It was Clyde's turn at bat. The doe was on her back, all 4 legs up in the air sliding diagonally between Peter and Clyde. Clyde was about to hit the head of the doe, but did not waiver in his trajectory. (Clyde later pontificated he couldn't believe W.T.F. was going on.) Clyde looked down at the doe as he barely missed her head and saw the doe eyeballing with a panic look as if to say W.T. F. now!! The doe continued sliding on her back for 2 more lanes as she attempted to raise up on her hind quarters. The incident was surreal and only took a few seconds!!!

From this point on, I'm a believer of "Raider Karma" The outcome would have been very different if the doe had made contact and we were in right echelon. It seemed as if an invisible force shield protected us,…. "Raider Karma".

Wallet Blows Off Bike | Found Days Later By Dying Man
As told by Bob Higdon

I had just picked up a new Suzuki Wee-Strom in Hamilton, Alabama on Saturday, April 26, 2014 and was working my way back to my home in Daytona Beach. About 30 miles southeast of Birmingham on US 231 I stopped in the late afternoon at a gas station to make a reservation at a motel down the road in Opelika. That, as usual, was a frustrating experience. Distracted and irritated following the call, I jammed my helmet back on my head, jumped on the bike, and continued down the four-lane highway. Less than one mile later I realized that I'd left my wallet sitting on top of the roll bag on the back of the bike at the convenience store. It had fallen off the bike somewhere. My diligent searching over the next hour along the side of the road produced nothing. Trust me here: If you haven't lost a wallet in the middle of a motorcycle trip, you cannot really grasp the concept of being utterly and irredeemably screwed.

It took me the better part of five days in Daytona to try to reestablish some sense of identity, starting with a renewed driver's license and bike registration. The word "nightmare" doesn't really seem to be sufficiently descriptive in these circumstances. Even worse, there were a couple of items in the wallet of intrinsic and irreplaceable value. Gone with the wind they were.

Six days after having lost the wallet I received a call. "Mr. Higdon," he said, "I have your wallet." I asked if there was anything in it. He described some cash, a few sodden business cards, and the usual documents. I asked when he'd found it. He said he'd spotted it that very morning. Everything seemed to be in order, he said, except there was an odd card in there that was from some sort of RaiderSportTouring organization with a picture of a Smurf. "Yes," I said, "that might be a little hard to explain."

I asked him to keep the cash --- he resisted, but I prevailed --- and to mail the wallet back to me at his convenience. No problem, he said. "One last thing," I said. "That wallet has been sitting on the side of US 231 for six days. How do you think you were able to see it when maybe 300,000 passing cars and trucks had overlooked it?" He paused for a moment. "I'm dying of an inoperable heart condition," he said. "One of the things I wanted to do before I pass on was to see America. So that's what I'm doing now. Riding across the country. With a horse and buggy."

When Dave Cwi first gave me the Smurf card last year, I thought, "Who in this modern, cynical world can possibly believe in such happy nonsense?" Yes, who indeed?

Bob Higdon

Editor's note: Perhaps there is a greater mystery and the purpose of losing the wallet was just so this guy who found the wallet -- who needs all the Karma he can muster -- could touch the Smurf!!

UNBELIEVABLE HARLEY AVOIDANCE STORY

It was 2014 and Jesse was in Daytona on the main drag to the Track riding there for the Daytona 200. This is his tale. The main takeaway: Change the route or speed or lane position and it would have been disaster. Raider Karms.

Saw the race.....just one thing happen. I arrived off the Interstate heading to the track. Cruising maybe 25 mph coming to the light a biker made a rapid left turn to the gas station in front of me and several bikers. A biker was pulling out of the gas station with a passenger. The fool hit the bike and I watched bike parts fly all the place and the guy with the passenger rolled elbow by elbow to a stop as his female passenger did a face plant.

The guy who created the event flew into a crowd of bikers at the gas station. Just got to the track and the carnage started. All were wearing helmets, jackets, and gloves thank God. Everyone moving about but slowly. If had been going just a little faster the fool would have hit me.....Raider Karma....

Jesse Perkins

SO INPROBABLE THE ODDS CANNOT BE COMPUTED
RAIDERS RUNNING TO SAME TOWN MEET IN KNOXVILLE

As told by Dancin Dave
John and I left Friday night right after the Bike Week Iron Butt Assocation Jacksonville FL dinner. We wanted to get to Tifton, GA because the weather up North was deteriorating fast with temps in the low 30's forecast within 24 hours. We were routed through Atlanta on I-75. The goal, easy ride next day to our homes while the temps were still somewhere in the 40's. Jerry stayed in FL and intending to run hard Saturday to also get home early. BUT, Jerry decides to roll on I 95 and then take 1-26 and come across 40. Different route. He and John are headed though to same Ohio town.

John and I leave at 7:30 AM and are slightly delayed as at the last minute I decide to put in my contact lenses as John asserts it is going to rain in Atlanta and gets in his rain suit. Another small delay as I get gas.

Turns out Jerry left Floria at 4:30 AM. John and I are on a mission. I get home in Two Stops. I leave John in Chatannoga and head to Indianapolis via Nashville. John rolls toward Knoxville.

HE AND JERRY MERGE ON A RAMP IN KNOXVILLE...LITERALLY...COME OFF I-640 FROM TWO DIRECDTIONS AND GET ON THE SAME RAMP TO I-75 ONE BEHIND THE OTHER AND RIDE HOME TOGETHER.

From a "what are the odds" standpoint...that cannot be calculated. The math is impossible. All that has to go right for that to happen is amazing. Starting with John telling me its going to rain. Starting with our getting going in fact 30 minutes earlier than the original plan. Who knows what minor changes impacted Jerry. Another SMURF EVENT!!!!!

Dancin Dave
BMW Final Drive Breaks / Replacement Instantly Found AND MORE

The story you are about to read is true. None of the names have been changed and there are no exaggerations. In a nutshell here's the deal: I blew a final drive on a BMW. It left me stranded within 5 minutes of the help I needed to install it and a final drive was available for install only because of another Smurf Event "miracle".

Leading up to the 2014 Iron Butt International event in Denver Colorado, I dared to ride a 1998 BMW R1100RT from home in Charlotte NC to Denver Colorado through all 48 states. The ride was successful and certified by Mike Kneebone during the award ceremony. I then left Denver and headed south on I-25. Before I got far, I needed to stop and use the facilities so got off at the only exit n Colorado City.

As I came out of the restroom and walked towards the bike, my eyes almost immediately fixated on the rear wheel and a brown spot on the wheel just as another drop of oil leaked out of the final drive. With phone in hand I quickly dialed up my friend Dave Selvig in Huntersville, North Carolina.

Dave is an engine builder who works in NASCAR during the day and rebuilds BMW final drives at night. He is still the guy to call and he answers the phone right away. When I told him about the oil that was leaking, he didn't need to know anymore. I needed a new final drive. Period!

Dave and I are both members of the Carolinas BMW MOA along with Pete Krenn. Pete gets a new BMW every couple of years and several bikes back the final drive in his 99 RT was replaced under warranty at 50,000 miles. He kept the failed final drive. It had been laying around in his garage for years and unbeknownst to me he had offered it to Dave. Believe it or not, Dave had decided to come and get it the same day my drive was failing me in Colorado. So I'm out a drive just as Dave is picking one up.

Not 100% sure it would fit, I would have to get my rear wheel off and send him a picture. If it was the correct drive, he would go through it that night and ship it the following morning along with the special tools I would need to change it.

Did I mention that there was in fact a motel at this exit? I explained my situation to the hotel owner and checked in. It looked like I was going to be here until at least Wednesday. I am thinking that this final drive swap is going to happen outdoors in the parking lot. My mind was racing. How am I going to get out of this one I thought to myself. Then the phone rang? Caller ID revealed the call was coming in from Pueblo Colorado.

Dan? This is Larry Sanford. Dave called and said you were having trouble with your bike. Where are you?

I said "I'm in Colorado City".

"Yes, but where? "

"I'm at the comfort inn just off the exit."

"Okay, I know where that is, I'll be there in 5 minutes."

Literally 5 minutes later, Larry shows up.

Turns out Larry has his name listed in the anonymous book and that's where Dave got his name. Larry is a semi-retired attorney from Kansas. He and his wife Mary K have offered not only to help me, but also to put me up in their home only 5 minutes down the road. He trailered my bike to his garage full of his own motorcycles.

Figuring it would be Wednesday before Dave's package would arrive, Larry apologized that he would not be able to ride around with me but insisted I take one of his bikes and explore the area. So Monday I spent the day riding in the mountains. Tuesday I did my laundry, got a haircut and went to the Colorado State fair in Pueblo.

Wednesday, Larry had his shop set up like an operating room. At 8:30 the lady at the post office called to tell him the package was here.

With my help, Larry had the final drive changed in about 2 hours and then took me to lunch. By 2:30 I was headed east and home by 8 AM Friday morning.

Just another Smurf Event!!

Dan Crowley

10 Nails In Your Tire -- NO PROBLEM

So I'm riding my FJR in Texas about 60 miles from Amarillo when I notice a small box in the road between the two westbound lanes. I think nothing of it. Ten miles later in Clarendon, TX the bike is acting real squirrelly and won't turn well, so I pull into a gas station and see that the rear tire is flat. I get the bike on the center stand, see a small nail in the tire, pull out the nail, plug the tire, and hook up the air pump. Nothing's happening! I thought that maybe the pump wasn't working. So, Smurf Event #1 is when I noticed a tire store about a block away. Imagine that . . . in a town of probably less than 1500 people in the middle of nowhere.

The mechanic at the tire store soaped up the tire and it looked like Lawerence Welk's bubble machine. There were ten holes in the tire, some too close together to allow gummy worm plugs to seat properly. The mechanic said that a box of nails was on the road about 10 miles east on US 287 and that they had already fixed several car tires that picked up nails. It was getting late in the day and the mechanic said he'd patch the tire for me from the inside first thing the next morning.

All night I worried about how the mechanic (who admitted that he had never removed a back wheel from a bike before) was going to get the wheel off. Smurf Event #2 was when I learned that another bike which just happened to be a Yamaha with a rear drive configuration almost identical to the FJR also had a punctured rear tire and another mechanic at the tire store had "gone to school" on that bike to figure out how to get the back wheel off. So, when my mechanic started on the bike he got the wheel off in about 10 minutes. Amazing!

The mechanic then removed the tire from the wheel, prepped the inside of the tire at each of the punctures (from 4d - 6d finishing nails) applied 8 patches over the 10 holes and heat sealed the patches. The total time spent from wheel removal to wheel installation was about 1.5 hours. Smurf Event #3 was when I asked what the $$$ damage was (I would have gladly paid $100.00 . . . and would have grudgingly paid $200.00) and he said the charge would be $40.00! Unbelievable !

I contemplated getting a new tire in Albuquerque, but decided to ride the 1500 miles back home on the patched tire being well aware that riding on patched / plugged tires is not recommended). Smurf Event #4 . . . I made it home with no problems!
Steve Branner
Out of Gas Middle of Nowhere | Friends From 600 Miles Away Appear
I was with Raiders as part of the annual April Ozarks Rendezvous and Ride. This year that included the best of the region's twisties leading to lunch and pie in Oark AR. Gas was mentioned at breakfast by Big J the Master Route planner so i knew I had nothing to worry about except twisting the throttle. Gas and the need to get it "soon" came up again at lunch which included mouth watering Carmel Crum Apple Pie! Assured gas was coming "soon" we headed out for more twisty roads. But my gut started feeling a little uneasy as I watched the miles adding up with the gas gauge going down and Big J not stopping. No problem I told myself because Big J always has a plan, or so I thought. But with my bike's computer telling me that I had 16 miles left in the tank…it was time to flag down our ride leader and make real clear right now that we needed to find gas nearby ASAP. We headed off to what we thought was the nearest gas stop. After 3 miles or so a power loss came over the bike and I pulled over with a whisper quiet GS; having now established to my son's amusement that this bike's run to dry mileage was 193. Raider Karma event number one: This happened going downhill [not uphill] and at the bottom was a spot where all of us could pull off the road. But then the real story starts. I tried a hose I had along to siphon gas from another tank. No luck with the old-school suck approach. Big J had an actual siphon pump. Also no go. And did I mention that thunderstorms were approaching and our weather apps assured us that hard rain was near. Raider Karma event number two: Looking up we see two BMW riders slowing down and pulling over to check out our situation. Low and behold Randy and Steve from out Big Sioux Rider Club are here – mind you they are 600 miles from home --- and they show up in Arkansas out of nowhere at the right time and place with a siphon pump and know how to use it. And soon enough a purring GS takes me to a new gas destination where thanks are shared and the possibility of staying dry makes me smile. Was is luck? Some know better.
Stan Stille